Promise and Warranty
When you hire T. J. Farinacci Landscaping, Inc., to do your landscaping & hardscaping project your mind will be at ease because you know you are in good hands. We have been building beautiful patios, walkways, driveways, and retaining walls in the Cleveland, Ohio area for over 30 years. Our experience and training gives us the confidence to guarantee what we can do for you.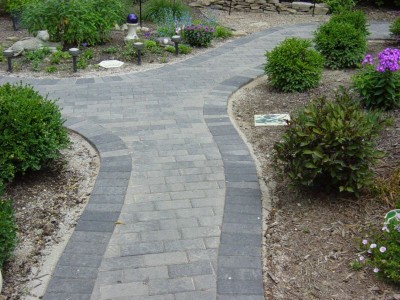 We will make sure you know which colors and styles you are going to receive by showing you actual samples of the material. We will provide referrals of work we have completed in your area.
We will arrive to do the work the day the work is scheduled and we will do what we promised. Over 90% of the time we have arrived to do the work the week of the original schedule. If we are delayed we will contact you to set up a new start date.
We will not move to another job until we have completed your project.
We will have the staff necessary to complete your job in a timely and competent manner. We do NOT hire sub-contractors.
Our staff will have the proper training to do the job you hire us to do. Owner and foremen have attended training courses and are Certified Paver Installers by the Interlocking Concrete Pavement Institute.
We will have the proper equipment to do your job right, the first time. We perform warranty work on about 2% of the projects we install.
Our workers are fully covered by the Worker's Safety Insurance Board and our company also carries a liability policy of $2,000,000 covering bodily injury and property damage.
When we leave your home or business for the night we will leave the work area tidy and all the tools and equipment will be put away and secured for the evening.
We will not ask for payment until you have had a chance to examine the work and are completely satisfied. If you find some deficiencies later, it will be covered under our one year warranty.
You will be satisfied because we will correct any aspect of our work that does not meet your expectations.
We will not perform any additional work over and above the contract without your approval. Before we perform the additional work you will know what it will cost.
You will receive an accurate invoice for the work you have approved and the details of the job will be reflected on the invoice.
Our Warranty
All the work is to be completed in a workmanlike manner as per the Interlocking Concrete Pavement Institute guidelines. All product we install will carry a lifetime guarantee on the structural integrity, from the manufacturer. Our installation and workmanship will carry a 1 year warranty from the date of completion for any irregular settlement of the pavers or retaining walls caused by settlement of the material installed by T. J. Farinacci Landscaping, Inc. Our warranty will include any materials and labor required to repair the effect areas. Our goal is to repair any warranty work within 14 days from when we are notified. All products shall remain the property of the vendor until paid in full.